Jada Kline
With a message of determination, Jada honors the past and embraces the future.
Jada Kline grew up buffeted by her mother's repeated battles with breast cancer. She searched for answers and found a calling — to learn everything she could about the disease. "If I could prevent other families from going through what we did, I would do it," says Jada, of Aurora, Illinois. "I wanted to find a cure." She threw herself into high school science classes and developed exacting criteria for the college she wanted: a major research institution, world-class scientists, an affiliated teaching hospital, robust internships, and opportunities to grow as a leader. She found that place in UW–Madison.
This is Jada's Wisconsin Experience.
A purposeful focus
Jada wanted to be a doctor almost since birth, toddling around her family's house with a toy stethoscope. Talk of medical school became more serious as her mother was diagnosed with breast cancer for a second, then third, time. "Once I got sick," says Melina Kline, "I think it kind of triggered something in Jada. It put her on this path." Jada researched multiple Big Ten campuses and visited several. Other colleges boasted about the difficulty of their curriculum and how some students couldn't cut it, Jada says. At UW–Madison, the conversation centered on the multitude of resources available to her and how faculty and staff members would help her master a rigorous curriculum, she says.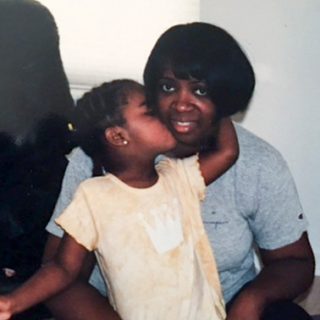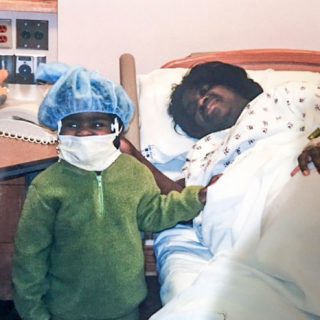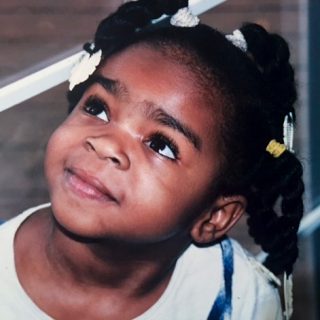 Family photos of young Jada and her mom. Courtesy of Jada Kline.
Making a big school small
Initially hesitant about UW–Madison's size, Jada found many ways to fit in. She was a Chancellor's Scholar, a program that seeks to attract and support academically talented students from underrepresented groups. "It had such a big impact on me, not only because it paid my tuition — which is amazing, of course — but also because it created this smaller family within the larger Badger community where I felt I could really be myself." She fully found her voice her sophomore year as a member of the Wisconsin Black Student Union, relishing its serious discussions about race and diversity. She went on to help lead the student group.
Chancellor's Scholarship Program
Hands-on experience
In Professor Norman Drinkwater's oncology lab, students use mouse genetics to understand the mechanisms of cancer predisposition. By her sophomore year, Jada was evaluating potential candidates for a locus that had been shown in the lab to control risk for liver cancer development in mice. Jada began learning about lab research in high school, competing for and winning a summer internship at Rush University Medical Center in Chicago to study how cancer metastasizes.
Jada's summer internships
Pulmonary lab, Northwestern University
Genetics lab, Broad Institute of MIT and Harvard
Radiology clinic, University of Wisconsin Hospital
Pharmaceutical research, AbbVie Inc., Waukegan, Illinois
Finding ways to give back
Nearly 1,000 student organizations operate at UW–Madison, and the broader community offers yet more ways to engage. Jada volunteered with Boys & Girls Club of Dane County and joined AHANA (African, Hispanic, Asian, and Native American) Pre-Health Society. She mentored young girls and helped raise scholarship money through Delta Sigma Theta Sorority, a national public service sorority with a primary focus on serving the black community.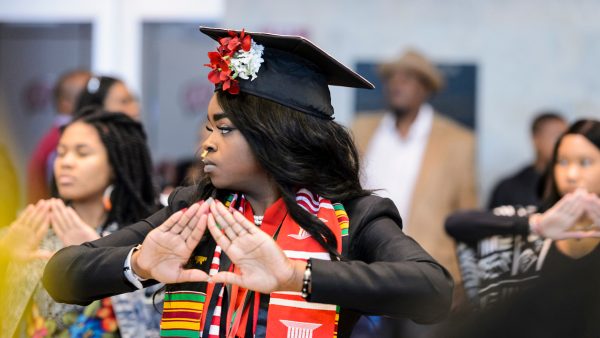 Inspiring words
Walking to the podium, Jada felt a rush of confidence. She'd been hoping for this moment for years and going over it in her head for months. As the student speaker for the 2017 winter commencement ceremony, she'd be addressing an audience of 8,800 people, just over 2,000 of them graduates. Jada herself would be earning her bachelor's degree that day in biology and political science. Eager to tell her story, she memorized her speech, never once looking at her notes. She told the crowd how her ancestors were sharecroppers who overcame major barriers to succeed, and she encouraged graduates not to let complacency hold them back. The crowd chanted her name and applauded wildly.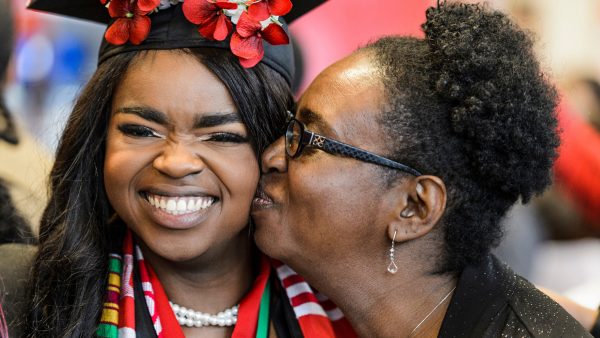 Jada is now working fulltime for the pharmaceutical company AbbVie and planning to apply to medical school. Her Wisconsin Experience has come to an end. The journey continues.
---
Story by Doug Erickson of University Communications, written in the spring of 2018.