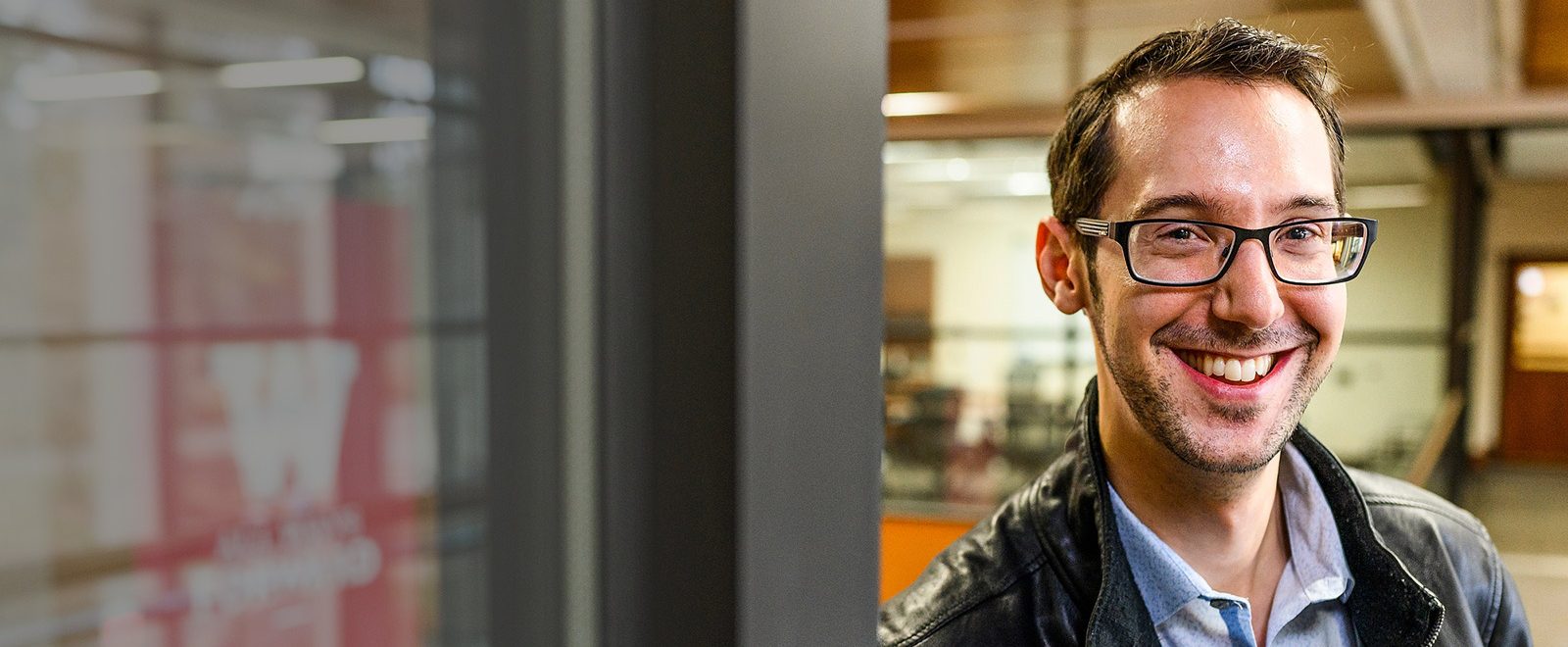 Brett Nachman
'Defining moment' leads to UW–Madison for Brett Nachman
Brett Ranon Nachman was about to take the stage at the Scottsdale Community College 2012 commencement. He thought he'd be more nervous speaking in front of all of those people.
Nope.
He knew exactly what he was going to say, practicing it over and over until his notecards weren't necessary.
After waiting through the usual pomp and circumstance of introductions and thank yous, it was his turn.
He started by acknowledging his fellow students, or "Artichokes," a nod to the school's mascot. It got a decent laugh.
And then.
"Now I'm sure coming to SCC was also a big adjustment for you. But for me, someone with Asperger's syndrome, it was beyond intimidating."
It wasn't necessarily a secret. Yet he had been fearful of being labeled so it wasn't something he felt like sharing with everyone.
But just like that, he did.
"That still remains the defining moment of my life," Nachman says.
It's led to many others, including Nachman saying goodbye to family and warm Arizona weather when he came to UW–Madison in August 2015.
When he was diagnosed, the doctor told his parents not to have high expectations. He'd never amount to much.
Nachman is now a doctoral candidate at the School of Education, studying educational leadership and policy analysis.
•   •   •   •   •
From a class of one to finding community
Nachman was diagnosed when he was 8 with Asperger's syndrome. It is part of autism spectrum disorder, a neurodevelopmental disorder that affects social interaction, communication, and behavior in one out of every 68 children, according to the Waisman Center.
School was difficult. He felt different than the other kids. Anxious. Isolated. Alone.
When he was 11, he started home-schooling with his mom, a former psychiatric nurse. In addition to studying things like math and reading, he worked on coordination, balance, motor skills and speech therapy with the help of physical and occupational therapies. His parents also worked with him on social skills like making eye contact during conversation.
Nachman began taking classes at SCC when he was 17, dipping his toes in the college environment. It was only six miles away – a comforting distance from his home.
He not only adjusted, he flourished, becoming the editor-in-chief of the student newspaper and president of the Psi Gamma Chapter of the Phi Theta Kappa Honor Society.
"It was the fantastic foundation I got at my community college through courses, connections with professors and student organizations that made me really appreciate what that type of institution can offer, especially because I was with peers who were oftentimes five, 10, 15 years older than me. People had a lot of different life situations," Nachman says. "I recognized this was the type of environment that seems to cultivate community among so many types of individuals, and I really gravitated toward that."
Nachman graduated with an associate's degree from SCC and a 4.0 GPA. He received a full scholarship in 2012 to Arizona State University and enrolled in ASU's Walter Cronkite School of Journalism and Mass Communication as well as Barrett, The Honors College.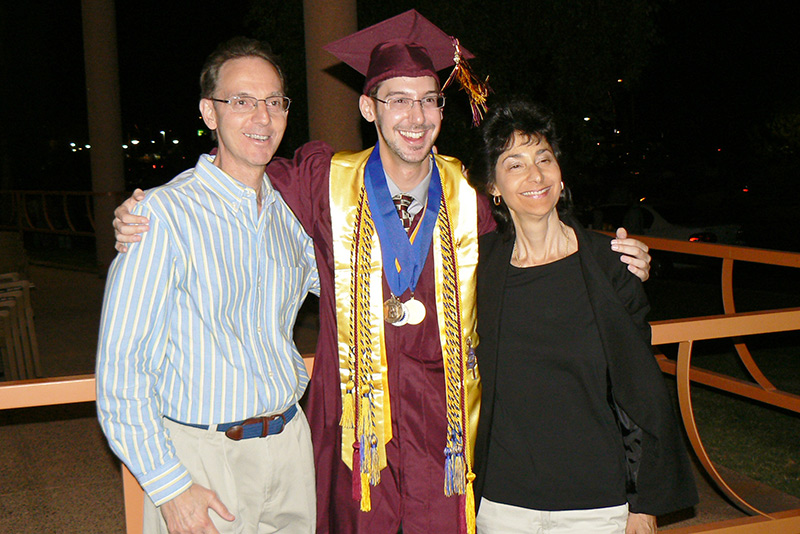 Assisting others
It was another adjustment. He saw that there were many programs offered for first-time freshmen but nothing aimed at helping ease the transition for transfer students like himself. Wasting no time, he co-founded during his first semester the Barrett SWAT (Supporting, Welcoming and Assisting Transfers) Team. The organization recruited prospective transfer students from community colleges and provided mentoring, social events and academic programming for incoming and current transfers.
It helped him meet people – and helped other people like him who wanted to meet other people. Like him.
He was initiated into Phi Kappa Phi in 2013 at Arizona State University, where he served as a student vice president for that chapter. In 2015, he received his undergraduate degree in journalism and mass communication from ASU.
Nachman saw more opportunities for him in academia. And he saw those opportunities in Madison.
An Artichoke becomes a Badger
Nachman is all about details. He looked at numerous academic programs throughout the country, but UW–Madison had his attention, in particular because of the work of Xueli Wang, a professor of higher education in the Department of Educational Leadership and Policy Analysis. Wang's research focuses on factors that influence student learning, experiences and success, with a particular focus on STEM education and community colleges, a subject near and dear to Nachman.
Wang, like a lot of professors, gets plenty of emails from prospective students. But the one she received from Nachman stood out.
"Brett's approach was clearly making me convinced that he thoroughly researched me and the entire institution as a whole and as an intellectual home," Wang says. "That's a true hallmark of a promising researcher."
His big picture thinking is one of the things Wang admires.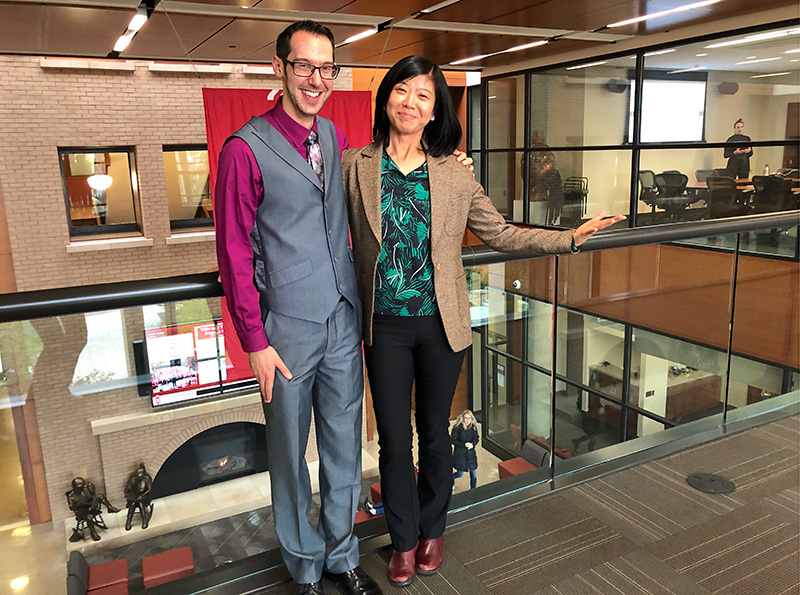 "There's something very special about Brett and how he extends from his own experience and coming to terms with understanding who he is as a person and relates that to the broader community," Wang says. "He uses his own challenges and triumphs and connects with others."
She's seen the risks he's taken and his willingness to learn.
"He never loses that sense of intellectual humility," Wang says. "The more he knows, the more he knows he needs to be more. That gives me so much joy and pride and inspiration in terms of the kinds of scholars we all want to be."
Nachman was accepted into numerous graduate programs, but he packed his bags, bought a winter coat and headed for Madison.
•   •   •   •   •
A new home
Was moving from Arizona to Wisconsin an adjustment? Of course it was. But since leaving his home-schooled class of one, Nachman was familiar with adjusting. There's discomfort. There's exhilaration. There's settling into a place that feels more and more like home.
"To move here and not know anybody and not have any real connection but to feel like this was the right space for me was a huge piece of personal growth," Nachman says. "I wasn't sure I'd ever be ready. I was wanting to kind of stay with what was comfortable. Then I felt like that was the time to take that challenge."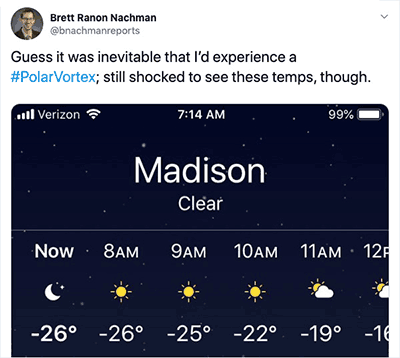 Within weeks, he felt a new sense of home with a new community. He'd never seen snow before so that first winter snowfall was magical. The following snowfalls, not so much. But you don't have to be born in Arizona to feel that way.
UW–Madison has helped him build upon his previous educational experiences. Nachman was the lead author on a journal article that explains how community college websites often omit depictions of autism — or may even portray it in a medicalized, negative or dehumanizing light. The article appeared in the Community College Journal of Research and Practice, and is titled, "Omission and Othering: Constructing Autism on Community College Websites."
The College Autism Network, an organization linking varied stakeholders engaged in evidence-based efforts to improve access, experiences, and outcomes for college students on the autism spectrum, has been a valuable resource for Nachman and has shared his work.
Nachman recently completed an internship with the Delta Program, which engages graduate students and post-docs in professional development in teaching, mentoring, outreach and advising. Nachman developed a workshop for teaching students on the autism spectrum along with Devin Wixon, associate director of the Delta Program. Through Delta, he also co-taught an online course on inclusive teaching practices, which included a unit on teaching college students on the autism spectrum.
Things like having an outline at the beginning of class, having a routine and setting clear expectations for students can benefit all students, Nachman says.
While his own experiences helped inform this research, it got him thinking much bigger. In September, he co-facilitated with Wixon a Delta program workshop on teaching diverse students of varying skills, goals and abilities titled "Universal Design for Learning: What, Why and How."
"I am continually impressed by Brett's commitment to teaching other educators," Wixon says. "He takes an open-minded approach to meeting his learners where they are, thoughtfully considering their learning outcomes and designing student-centered activities."
Wixon works with educators across campus and appreciates how Nachman's work emphasizes how best to teach students while supporting and providing resources for teachers.
"Teaching is not easy," she says.
Wixon says that one of the reasons Nachman has been successful is that he's open to ideas and willing to try things out even if that means making mistakes along the way.
"Willingness to critically self-reflect is something that gets a lot of lip service, but it's completely different to actually do it," Wixon says. "He really reflects not only on his own experiences but on those of participants. How did I grow? How did participants grow? It's an area a lot of us struggle with. He digs deep."
In late January, he was one of seven who received a K. Patricia Cross Future Leaders Award at the Association of American Colleges & Universities annual meeting in Washington D.C. The award recognizes graduate students who show exemplary promise as future leaders of higher education, demonstrate a commitment to developing academic and civic responsibility in themselves and others, and whose work reflects a strong emphasis on teaching and learning.
•   •   •   •   •
Embracing identities
Nachman thinks a lot about the different identities we all have. In his case, autism is only one part of who he is. He's also gay. Nachman sees correlations between coming out as autistic and coming out as gay. There can be apprehension. Fear. But hopefully support and relief.
It can be complicated — but so are people.
"We can't look at things in a homogenized way. I think it's important to look at autism and a lot of other identities as multi-faceted," Nachman says. "There's a lot of diversity within the autism community, not only in terms of characteristics and challenges but also in gender, race and sexuality."
One of Brett's soon-to-debut empirical journal articles (forthcoming in College Student Affairs Journal) is about the experiences of LGBTQ college students on the autism spectrum, a group that hasn't gotten much attention. The study, led by Ryan A. Miller at the University of North Carolina at Charlotte, found that while colleges often have resources, such as student organizations and campus offices, it's important to embrace students' intersectional identities so they are welcoming spaces.
Nachman is happy to see more stories are being told but reminds us how much language matters.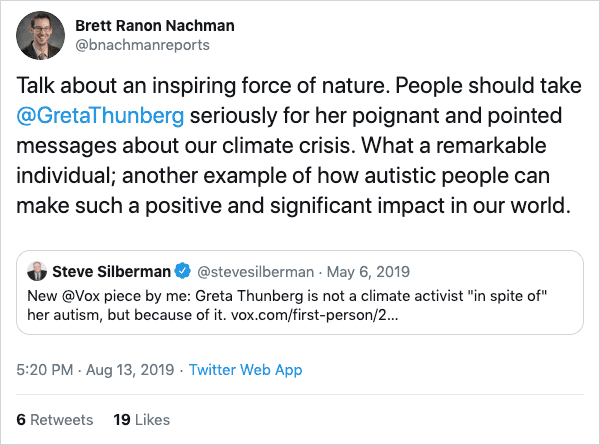 "Sometimes people are not always the most informed. That's OK," he says. "What I appreciate is people are willing to learn."
Nachman didn't overcome Asperger's. He hasn't succeeded despite Asperger's, although these are a couple of headlines he's seen in the past.
"It's all about how things are framed. Continually being put in that light is dehumanizing."
He's succeeded the same way many of us have: by honing the skills that come naturally while working on the ones that don't.
"The overall discourse on autism is changing remarkably," he says. "I feel very thankful to be part of that conversation. There's at least a greater understanding and that's a start."
He realizes it can be easy to say the wrong thing, even with the best intentions. "Person-first" language has been encouraged, calling someone a "person with autism," which describes what a person has, not what a person is. Others argue for disability-first language, such as he or she is an "autistic person," seeing it as an inherent part of their identity.
The College Autism Network includes both person-first and identity-first language throughout its materials but tries to retain students' and authors' original language whenever possible.
Nachman's suggestion is to always be mindful of how a person describes themselves. Ask how they belong to the autism community. He usually says he is autistic or has autism.
"There's a lot of debate within the autism community," he says. "Just having a great openness to terminology is a great start."
Nachman uses his Twitter account, @bnachmanreports, to promote research on autism and dispel misconceptions. He tries to make it a place where people can learn a little without feeling judged.
"I think it comes down to looking at people as people first and accounting for their individual characteristics," he says. "All of us are guilty at different times in our lives of looking at someone as simply different."
Nachman feels less alone now and more comfortable with who he is. It was much harder when he was a kid, but one of the things that helped was the wonderful world of Disney.
"I always resonated with some of the characters who are a little more questioned or feel like outsiders," he says, mentioning Quasimodo from "The Hunchback of Notre Dame."
But his absolute favorite is Pluto.
"It's because Pluto is Mickey Mouse's loyal and amiable companion who is endlessly curious and clever, if not stubborn at times, and I resonate with those qualities."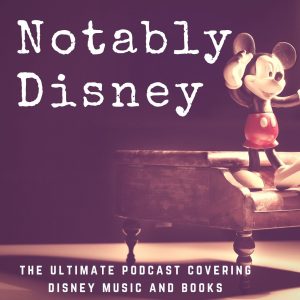 While he feels more like he belongs, his love of Disney continues. He hosts his own podcast, "Notably Disney," which he started in February 2019. A recent episode featured an interview with UW–Madison alum Jeff Kryka, composer of "The Imagineering Story" documentary on Disney+ and an orchestrator for many major films like "Incredibles 2" and "Doctor Strange." Nachman has visited Disneyland in California 16 times and Walt Disney World in Florida on seven occasions.
It's no wonder Disney memes and GIFs occasionally find their way into his lectures.
There are still things that scare him. But he does them anyway. How can he not after the commencement speech that helped lead him to Madison?
"That moment was extremely empowering," Nachman says. "It was a little scary, but ultimately I think that moment shaped everything that I am today." ■
---
Photos provided courtesy of Brett Nachman, with the exception of the hero image, taken by Bryce Richter, University Communications.