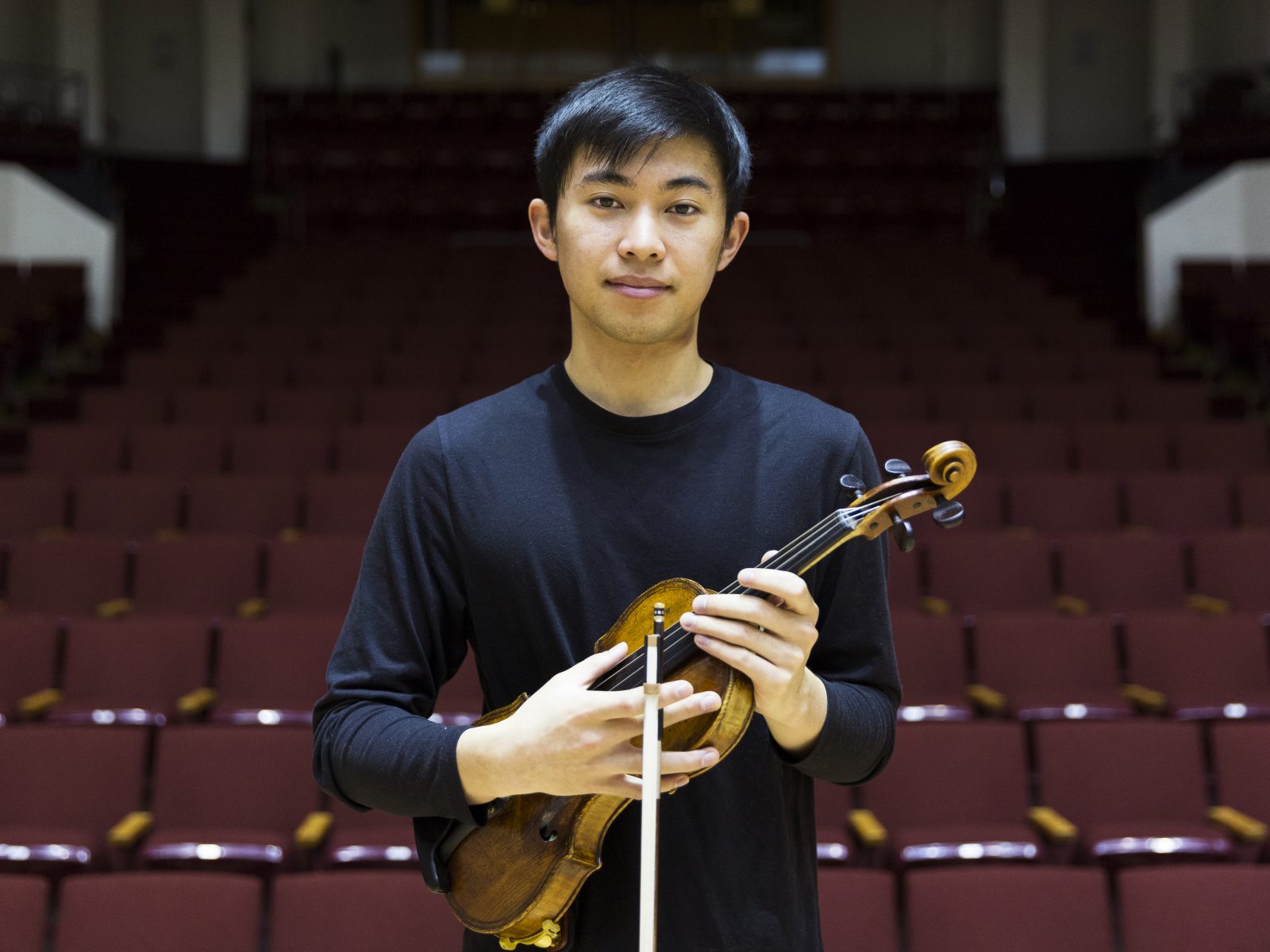 Sarah Morton
Synching science and music
Luke Valmadrid has forged a rigorous path pursuing degrees in chemistry, biochemistry and violin performance — and the dedicated senior wouldn't have it any other way.
Luke Valmadrid was on his way toward a double major in chemistry and biochemistry when he found himself performing the second movement of the Sibelius Violin Concerto in a recital.
Because his friend was accompanying him on the piano, Valmadrid, then a sophomore, was especially motivated to make the performance a success. And his teacher, Soh-Hyun Park Altino, a newly hired assistant professor of violin in the Mead Witter School of Music, noticed the extra effort.
"In our first lesson after the recital, Professor Altino told me that she was surprised at the increase in performance level," he recalls. "She had previously thought that I wasn't seriously pursuing violin, and she was right."
Park Altino asked Valmadrid if he wanted to change that, and he answered that he did. "Her expectations transformed immediately," he says, "and I went from practicing an hour or less a day to four to six hours daily."
Valmadrid appreciates the encouragement and push Park Altino has provided as he's stepped up his commitment to music, going so far as to make violin performance his third major.
"She's been amazing," says the senior from Portage, Wisconsin. "She doesn't give me any special treatment or let the intensity of my practice slip just because I work multiple jobs, run with many extracurriculars and have plenty of non-music coursework. She holds me to a really high, always-growing standard, and I've grown a lot because of her dedication to me personally."
Valmadrid's UW experience started with First Wave, the renowned program that uses hip-hop to engage students in academics, art and activism. He focused on dance but quickly added spoken word to his repertoire, thanks to his fellow students who were fluent in the art form. "Because I was surrounded by all this talent, it wasn't as drastic to learn," he says.
On the science side, Valmadrid consistently sought out challenging courses. He particularly enjoyed Professor Thomas Record's 500-level biophysical chemistry course.
"The class was demanding from the get-go," he says. "Everyone got in the mindset of, yes, let's work hard."
Valmadrid, now a senior, also considers research opportunities highlights of his time at UW. He's worked in chemistry, psychiatry and cartography labs, as a writing fellow and with the surgery department.
Undergraduate Research Opportunities
While some students might not enjoy pivoting between art and science throughout the day and over the years, Valmadrid relishes the experience.
"They serve as a break for each other," he says of the pursuits. "I'm being constantly refreshed — but they just happen to be productive."
And he's grateful that faculty across the university respect that his interests run across disciplines.
"At some schools, it's very difficult," he says of pursuing non-related majors. "Here, many professors make it easy. They don't immediately think I'm going to do less work because I want to do more things."
Perhaps not surprisingly, Valmadrid's advice to students seeking to find their way on campus is to jump in to opportunities that they're drawn to or simply happen upon.
"Do a lot," he says, "whether you know you want to do a lot, or you don't know."
---
This story was written by Katie Vaughn and published on the College of Letters & Sciences News website in January 2018.